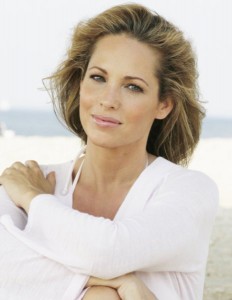 Q:  When did your passion for design begin?
A:  I have always been passionate about design. As a little girl, I didn't play with dolls, I created incredible cities out of Legos and Lincoln Logs. My first official design project began at age fifteen when I restored my 1968 Camaro. It transformed from a rusted busted heap of metal into a shiny, bright yellow muscle car, side pipes and all.  It made every teenage boy green with envy.
Q:  Interior Design wasn't your first profession, what was your career path?
A: After graduating with a Bachelor of Arts in Communications, I found myself working in the fashion industry in New York City. A few years sailed by and I saw no more opportunity for advancement or learning, and I made an unusual turn into the modeling world. At 5'4″, it was an uphill battle, but I was ultimately signed by Wilhelmina Models and had a surprising twenty year career specializing in hand and foot modeling.
Happily exiting the office environment, I truly appreciated the incredible opportunity for travel and adventure. I watched, learned, and absorbed the creativity from all the talented people I worked with. I honed my aesthetics by paying attention to the smallest of details while collaborating with photographers, stylists and set designers. When I was able to purchase my first home, I became obsessed with remodeling and interiors. I quickly enrolled in the design program at The New York School of Interior Design. I thrived in the classroom environment, and never looked back!
Q:  What elements do you begin a project with?
A:  The two elements that I begin with are my client's dreams and the architectural space. I spend a lot of time understanding my client's vision for their home. I ask a lot of questions about how they live and how they want their space to work for them. If they let me, I may even peek into their closets. The more I know, the easier it is for me to choose furnishings for clients with accuracy.
As for space planning, the architectural space of the home is my guiding principle. I prefer to work with the architecture, enhance it and not fight against it.  When first planning a space, interior design is a giant math problem – and I love math!  Everything is about dimensions. The perfect amount of inches between a coffee table and a sofa make you feel comfortable putting down your coffee cup. The distance between two chairs should be close enough to read facial expressions. When the math and dimensions are correct, you can feel it.
Q:  What inspires you?
A:  What doesn't inspire me! Nature will always be my first resource. I am in love with natural elements such as driftwood, pebbles, shells, feathers and sea glass; treasures you can find while strolling on a beach in the North East. I favor the faded, washed out colors you may find on boathouses, cabanas and beach cottages that dot the shoreline. I use these elements in my work in different ways such as a pebble tile for a bathroom floor, a driftwood table in a New York City apartment to remind my client of summers spent on the Canadian coast. Shell inlay on a modern resin table gives a nod to the beach without being kitschy.
I also follow fashion, film and costume design in particular. I belong to a costume group where members design, create and wear elaborate costumes for parades, parties and events. There are times where I may have to reign in my creativity for interiors and it's fun to go wild with a hat made completely of butterflies, or an intricate cape created from an old damaged wedding dress.
Q:  If you could live on a movie set, which would you choose?
A:  I have two favorites! First, I'm mad for Kevin Costner's beach house from the 1999 film, Message in a Bottle. I absolutely adore this house and would live in a boathouse, shack, cabana, barn or tree house if I could. Second, is Nicole Kidman's elephant lair from the film Moulin Rouge. Who can resist Paris at the turn of the century! The top hats, tails, feathers and corsets are stunning. And lets not forget the tiny opulent jewel box bedroom in the shape of an elephant. I can't think of anything more fantastic.
Q:  If you were reborn as a piece of furniture or object, what would it be?
A: I would love to be reborn as a vintage O'Keefe and Merritt stove from the 1940's. Cooking brings me so much joy, so the idea of feeding people in style is a wonderful thought. I was lucky enough to bake, broil and grill on one of these beauties for a few years and it was a true pleasure. The curvy lines and smooth enamel finish were to die for.